Mental health
There are two useful websites to help professionals, practitioners and any adult working with children that are experiencing mental health issues.
MindEd website - online training for any adult working with children / young people
Provides online learning in bite-sized chunks to help adults to identify, understand and support children and young people with mental health issues.

The online training is open to anyone and the website works on PCs, tablets and smartphones. You can choose to register and a training program will be recommended that's suitable for you in your role. Or you can just select training modules that interest you.
Watch the video guide to using the MindEd website:
Ask Normen website - info, advice and services about children and young people's mental health in Northamptonshire
This site is for parents, carers and any adult working with children.
Topics covered include:
Behaviours and concerns- info about symptoms, causes and treatments for a wide range of issues including anger, bed-wetting, low self-esteem, moods, concentration issues, hyperactivity, sibling rivalry, defiance, self-harm and more.
Mental health conditions - info about recognised issues, what they are, symptoms and how to get help. Includes ADHD, Anxiety, Aspergers, Autism, Bi-Polar, Anorexia, Bullimia, Depression and more.
Child development & parenting support - info on the different stages of child development, emotional and social milestones and parental support. Includes advice around boundaries, routines, social interaction, play and more.
National and local policies - signposting to policies related to wellbeing and mental health for young people and children.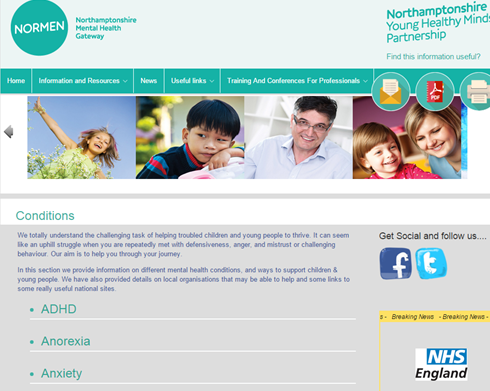 Last updated: 17 December 2015