Safe sleeping for a baby
Northamptonshire Safe Sleep campaign to ensure all new parents are aware of how to ensure their baby sleeps safely at all times. Below you will find the latest graphics and literature for parents and professionals.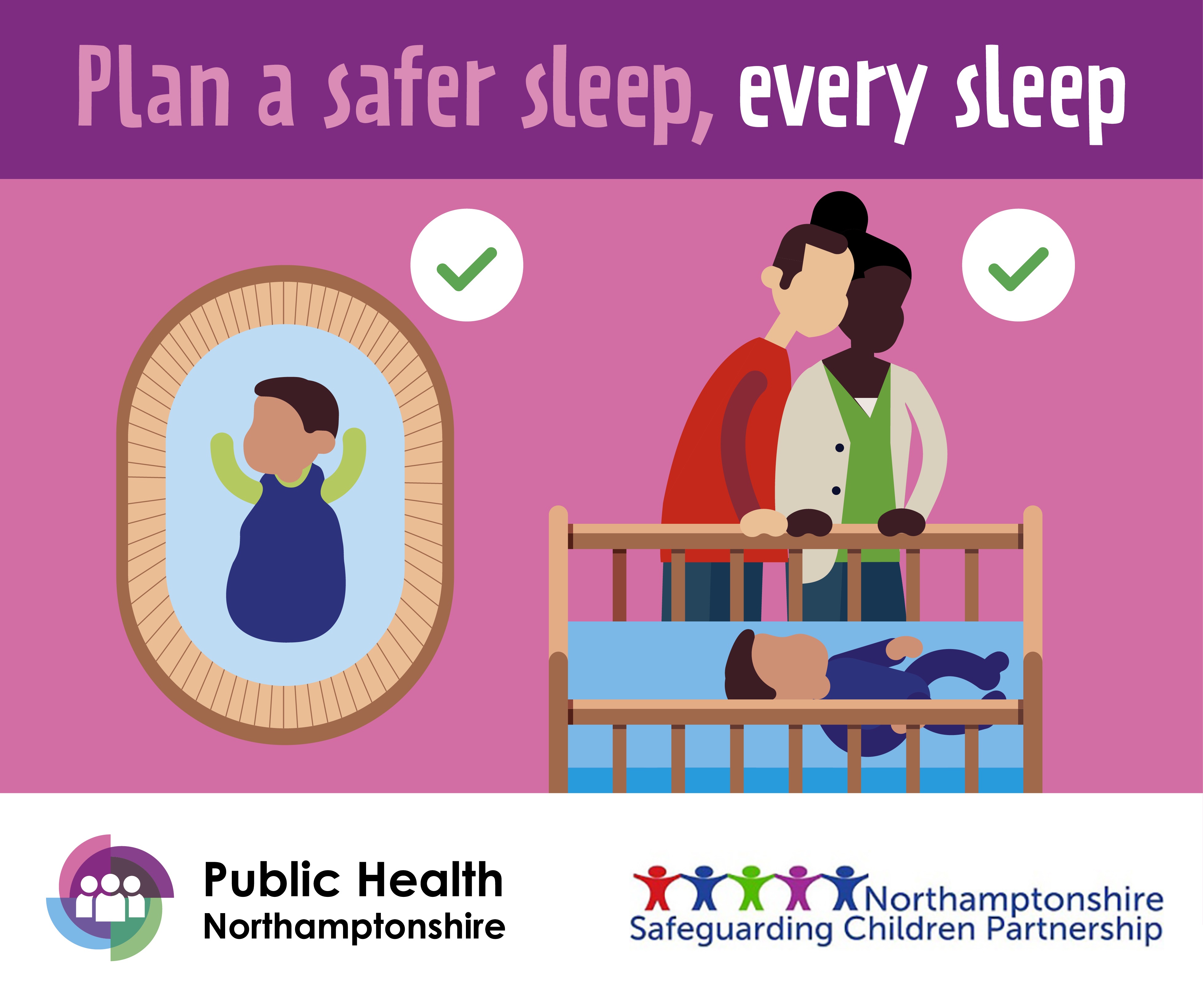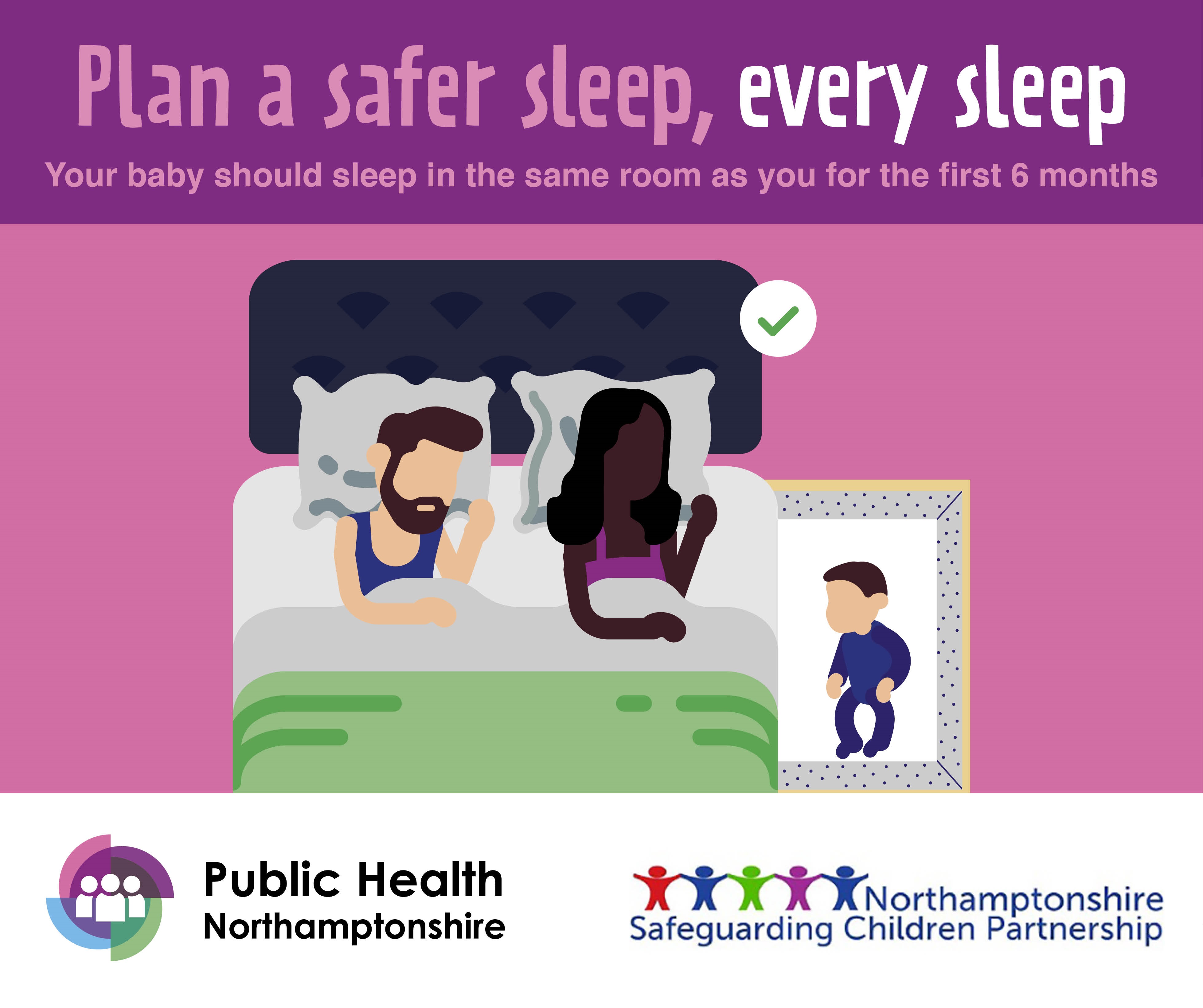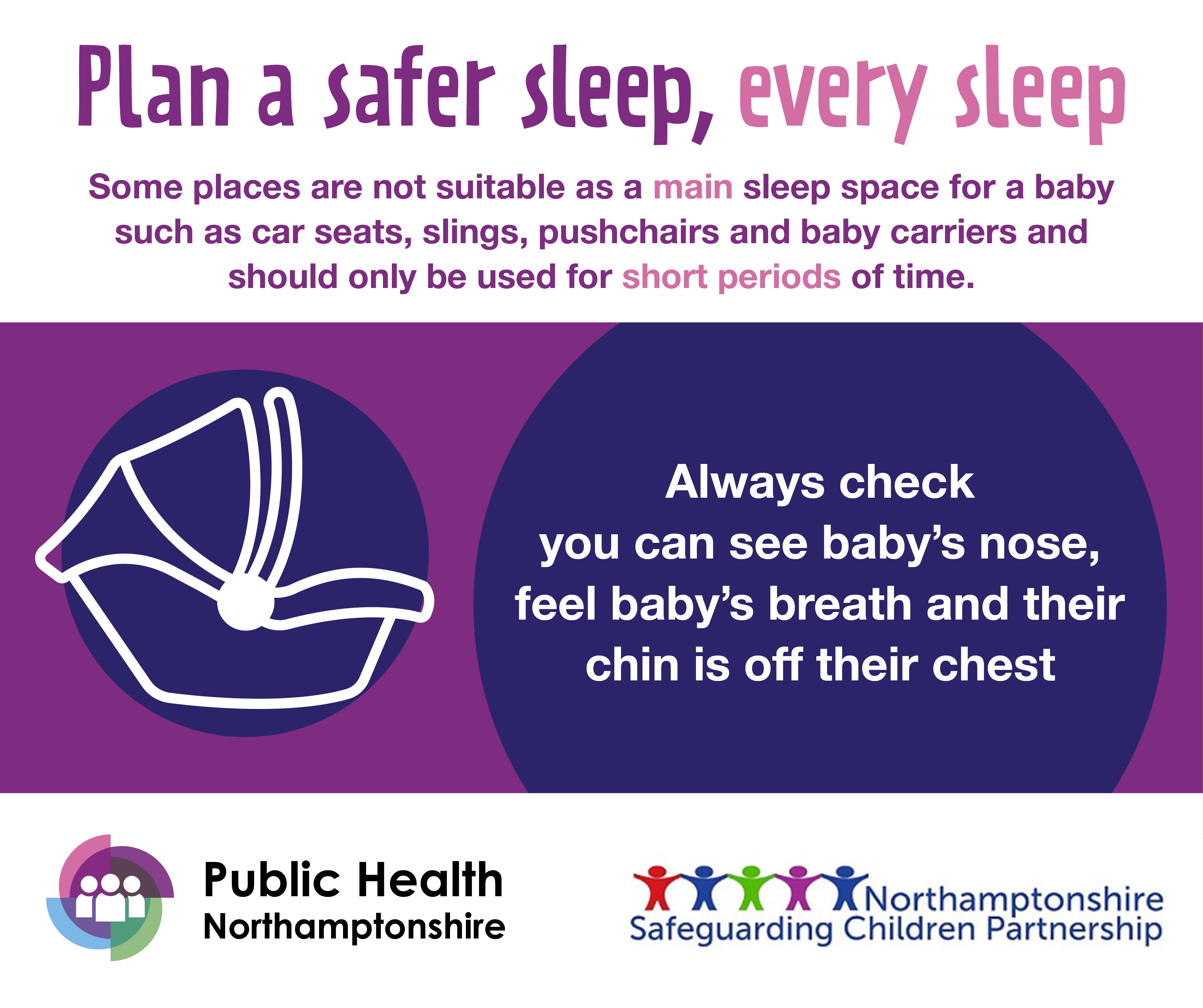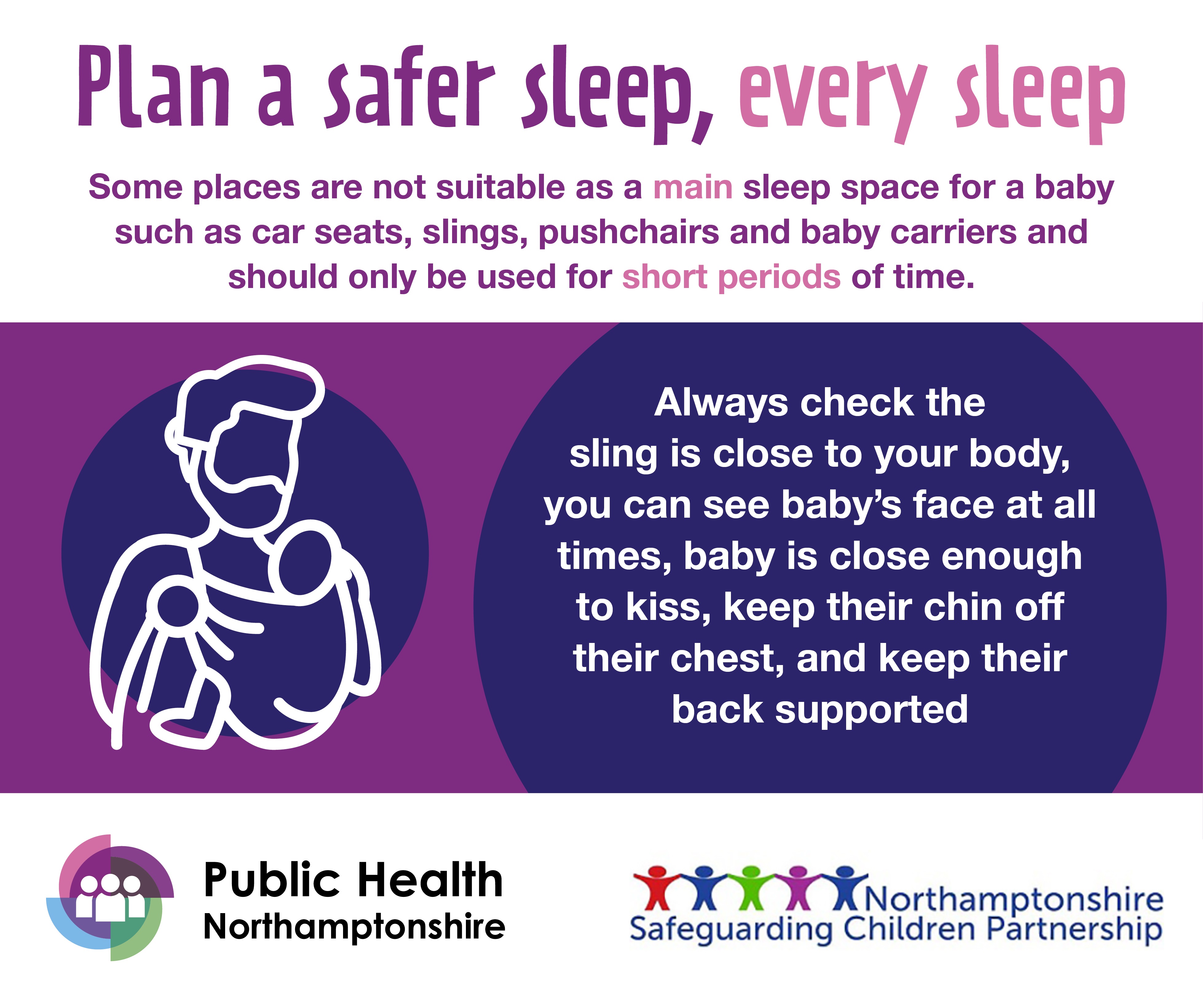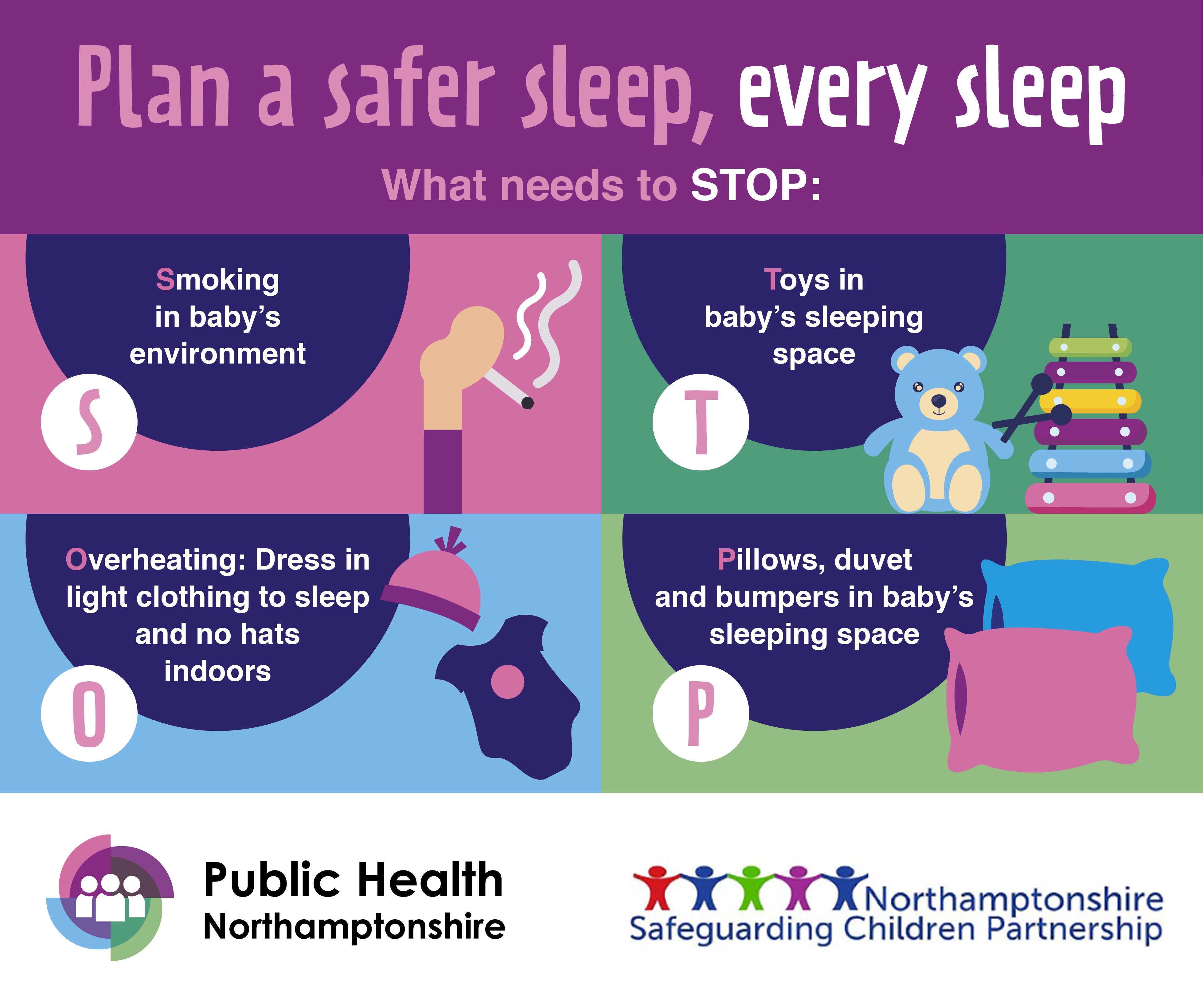 The safest place for a baby to sleep for the first six months is on their back, in a separate cot or moses basket, in the same room as you
Whilst physical contact between parents and babies is important for a newborn's early development and emotional security, sharing a sleep area with a baby can be extremely dangerous as it increases the child's chances of dying by accidental suffocation*.
Why?
A baby's head is big and heavy compared to the rest of its body. Babies, under the age of 6 months old, have not yet developed the muscles in their necks to be able to move their heads or lift their head away from danger even if they are not able to breathe. Therefore, falling asleep while you are holding your baby - whether it is in your bed, on a sofa or in an armchair – places your baby in a perilous position.
Advice for parents of newborn babies
Parents and carers of newborn babies are being urged to follow the safe sleeping with baby guidelines as detailed in the safe sleeping with your baby guidance leaflet
Things you should do:
Place babies gently on their backs up to the age of 6 months
Ensure that baby does not overheat due to too many blankets or high room temperature
Keep the room at a temperature that is comfortable for you at night. About 18C (65F).
Always take your baby out of their car seat when the journey is over and remove outdoor clothing once inside, even if it means waking
Refer to the Parent Held Child Health Record (red book) for diagrams on placing baby safely in their cot or moses basket
Things you should avoid:
Do not leave baby asleep for long periods in travel systems or car seats
Don't take risks: Smoking, drinking alcohol and medication or drugs can make you sleep more heavily and further increase the risks
Don't let your baby's head become covered. Covers should be securely tucked in, and reach no higher than the shoulders.
Your health professional support
Your Health Visitors will visit you and your baby at home around the eleventh day after birth. At this time they give advice, support and information to ensure babies sleep safely.
Home visits, carried out by a midwife will include safe sleeping assessments, carried out within the first four weeks of a new baby's life and the assessment and appropriate advice is recorded in your Parent Held Child Health Record (Red book).

As your baby develops
Handle with care - It is important to understand that rough handling - especially shaking - can seriously injure your baby
Be gentle - Babies are fragile, so be gentle, loving and supportive.
NEVER SHAKE A BABY.
When baby learns to roll both ways, you do not need to be up all night putting your baby on their back. Your baby has developed enough to find its own comfortable sleeping position.

At any time, if a baby is unwell, seek medical advice
Your pharmacist
Your GP

NHS 111 - Out of Hours Service
They can provide health advice 24 hours a day, 7 days a week and will listen to the symptoms and refer you to the most appropriate treatment or place to be treated. This may be the GP out of hours if it is out of GP practice hours. If they feel it necessary that your child needs to go to hospital they will call for an ambulance for you.
Get URGENT medical attention if your baby
Stops breathing or goes blue
Is unresponsive and shows no awareness of what is going on
Has glazed eyes and does not focus on anything
Cannot be woken
Has a fit, even if your baby recovers without medical attention.
Call 999 and ask for an ambulance

*Nationally, over 300 babies a year die suddenly and unexpectedly. Northamptonshire is above the national average for babies who die suddenly and unexpectedly (based on figures December 2014 – May 2015).
2021 Update
Throighout 2020 and 2021 Public Health in the county have been leading on a campaign update. The below documents shows the reach and some of the key messages contained in this update.
Click here to read the campiagn update
Last updated: 29 December 2021