Neglect Toolkit
The 'Neglect Toolkit' is designed to assist frontline practitioners working with children and families in identifying and assessing Neglect and taking appropriate action.
We have also produced a guide to using the toolkit to assist you in using the toolkit.
It provides:
a comprehensive definition of Neglect and the different types of Neglect that may occur;
the risk factors associated with Neglect and the effects Neglect can have on a child or young persons development;
detailed advice on the approach and tools for frontline workers to use when they believe a child or young person is at risk of neglect;
guidance on completing the Graded Care Profile (GCP) and how to refer to MASH;
a Screening Tool (Appendix 3) for use by frontline staff or those who's contact with the child is too brief to allow for a full GCP assessment;
guidance on the importance of using chronologies when assessing neglect;
guidance on working with families who may show signs of resistance to intervention and;
detailed case studies to help practitioners.
The full version of the 'NSCB Neglect Toolkit' is available below and has also been split into smaller bite size sections for practitioners to use on a day to day basis.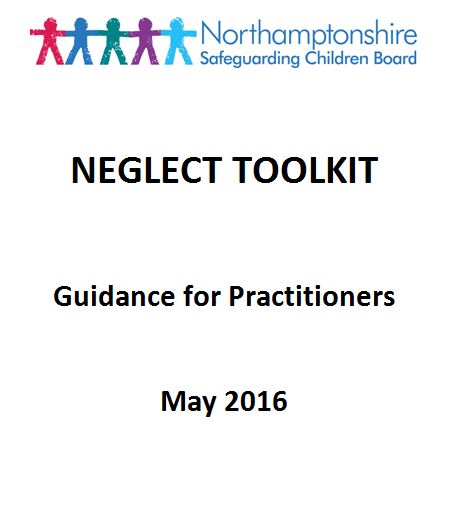 NSCB Neglect Toolkit Chapters.
NSCB Neglect Toolkit Full Version (PDF 1.5MB)
Section 1 - Contents, Introduction and Definition / Types of Neglect (PDF 108KB)
Section 2 - Signs of Neglect, Risk & Protective Factors and Effects of Neglect (PDF 127KB)
Section 3 - Assessment of Neglect (PDF 183KB)
Section 4 - Chronologies, Working with Resistance and Supervision (PDF 89KB)
Section 5 - Role of Early Help and Making a Referral (58KB)
Section 6 - Case Studies (60 KB)
Appendix 1 - Assessment of Parental Motivation to Change (Word Doc 99KB)
Appendix 2 - Graded Care Profile (Word Doc 324KB)
Appendix 3 - Neglect Screening Tool (Word Doc 14KB)
Appendix 4 & 5 - Cumulative Chronology of Neglect and Example Genogram (Word Doc 19KB)
Last updated: 23 September 2020